Herbal bath soak for anxiety relief
Well, this isn't the post I had planned on sharing tonight, or even at all this week. But when life gives you lemons, save them for your gin and make a herbal bath bomb (in no way is it a bomb, more teabag… lets call it a herbal bath soak!)
This post does ramble on a bit, and for that I'm sorry (totally not sorry) but if you stick through it you will see my efforts at reducing both my dependency on shop bought products and pharmaceuticals, I also open up a little about my battle with anxiety this is one means for kicking it into submission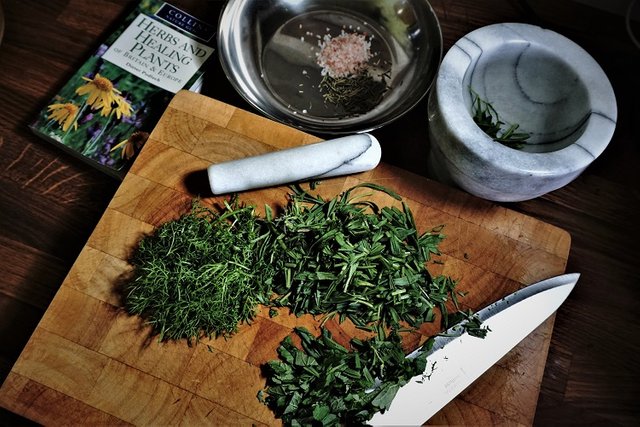 The fragrance of the lavender and chamomile was unreal!
---
How I got here
Like many many people, I have a few demons to battle, and one of my favourites is "anxiety" I'm not sure why it made a re-appearance but It's hit me pretty hard the last two days and has had a serious knock-on effect with me and my family.
"Anxiety" hurts me by pulling me off my path, further from my family and away from the task at hand.
This may sound trivial to some, but to the others that know the beast "anxiety", you know what I mean. The 30 minutes to do the 3-minute task, those conversations that need to be repeated several times as you are so focused on keeping your head above the water a loud room can sound silent.
Onset of "anxiety" and the trauma it caused myself and the loved ones around me is what is leading me on this journey.
Kicking anxiety in the sack
One thing I've taken a keen interest in is herbal remedies and their healing properties, mainly it's just been studying and reading up on all of the interesting information and using this to select prime candidates to grow and cultivate within my garden.
One thing I like to do when stressed and feeling anxious is to find somewhere quiet and read a book forcing my brain to focus on something else other than the "anxiety"
one book I'm going through at the moment "grow your drugs" caused me to put this into action and smash out my first herbal remedy.
---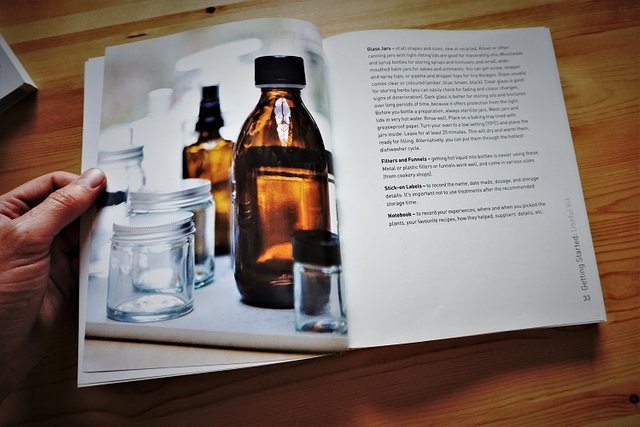 Cue research mode!
---
The bit where the magic happens
Let's get down to business, this is what you clicked for and if you stuck it this far, I salute you!
After a quick read, google, more reading and a look in the garden I came to the conclusion of making a de-stressing- bath ball sort of thing. This is 100% natural, 100% recyclable and 100% awesome
What you need
 Chamomile
Lavender
Lemon balm
Rosemary (i didn't have any fresh so used dried)
Himalayan pink salt
A square of muslin
Some string
You really need to look a the benefits of the above herbs, they seem amazing for treating stress, anxiety, depression, skin conditions, antibacterial and anti-inflammatory to name just a few of the benefits I'm interested in.
This was super simple so I'll give you a quick rundown but then ill let the pictures do the talking
It really was a simple as pick, cut up finely. Then I added batches to the pestle and mortar with some Himalayan pink salt and ground it to a pulp to really get the oils flowing.
Then it was as simple as chuck it into a muslin square, bring the corners together and tie some string around it. This was used to keep the mix in the bag and to dangle it from the tap.Taaa Daaa one herbal bath soak complete
Then run a bath and relax!
---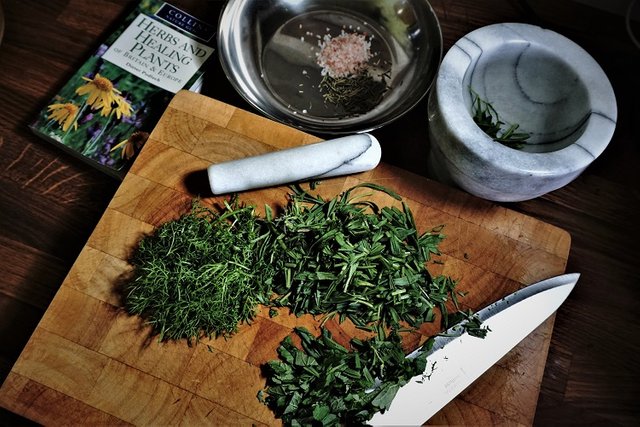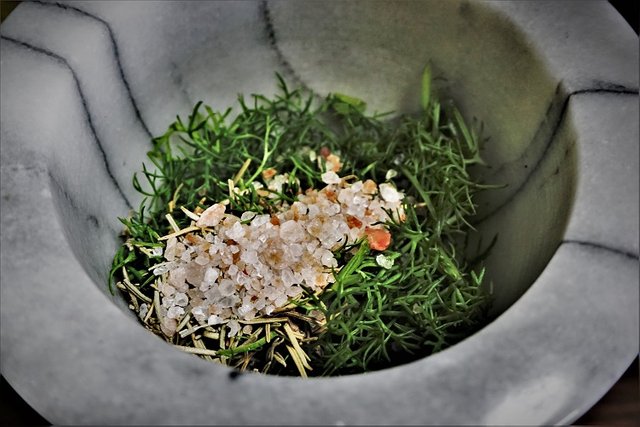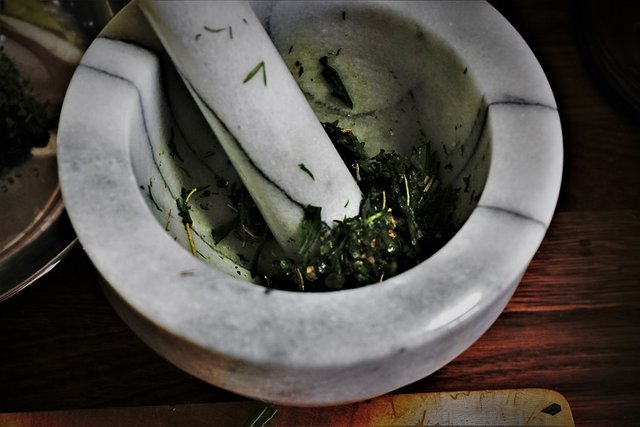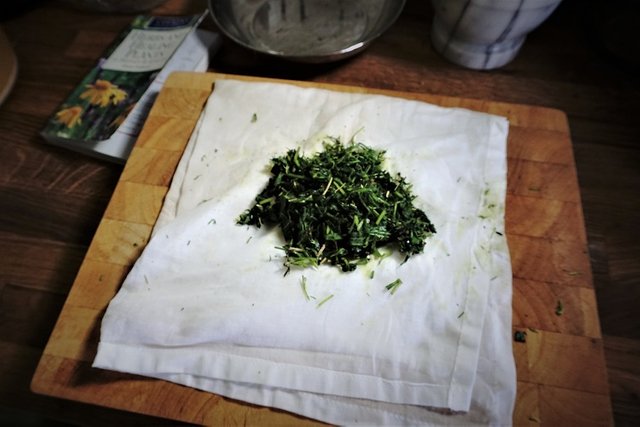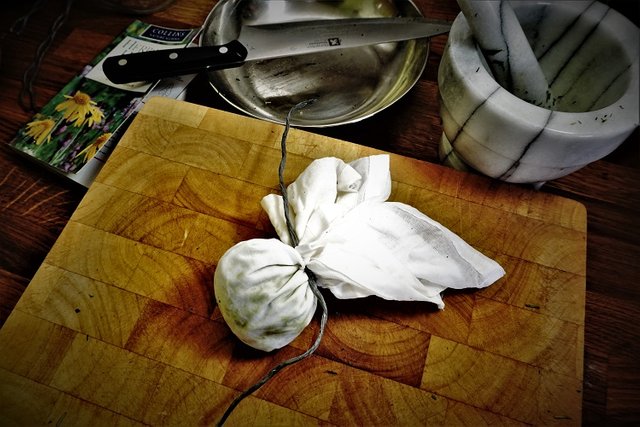 Well this was a nice quick cut, wrap, run and relax 😀
---
Herbal bath soak conclusion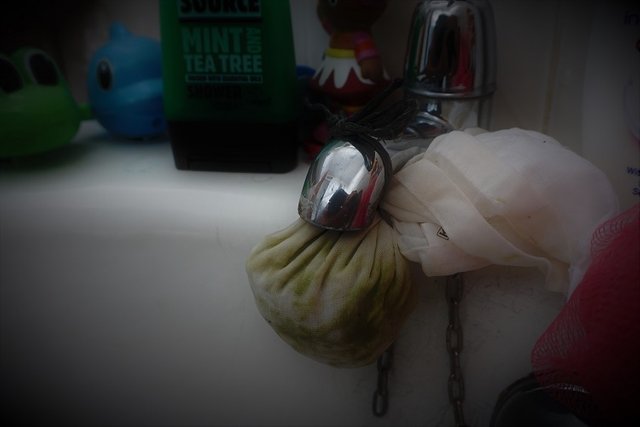 Tied up and ready to relax
---
To be honest I think it would be unfair to say if the herbal bath soak worked or didn't. Do I feel more relaxed, Yes! Could I just put it down to a long soak in a hot bath and the cumulative effects of fatigue, probably!
However, I am going to do this again, and again, and again though. Why, it smelt as good, felt better and hasn't affected my skin in the way that the normal bath soaks to relax do, as my skin especially when stressed can be sensitive to many things. Another plus i do feel more sedate, centred and in control of my anxiety.
Get those herbs grown or find something similar and give it a go, be kind to yourself and the planet!
---
If you haven't all ready you may find some other useful information on the blogs Herbal medicine category  or get involved with the amazing people on the Natural Medicine discord server
As always thank you for dropping by and reading my posts, if you like what you see think about sharing, commenting and following my blog/ Youtube channel.
But if you only do one thing leave a comment and say hello!
All the best
D.